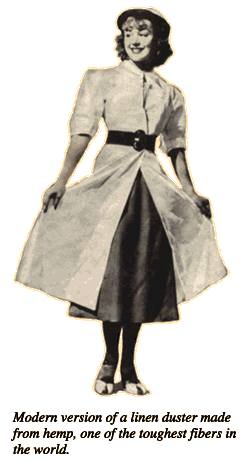 From this point on, almost anything can happen. The raw fiber can be used to produce strong twine or rope, woven into burlap, used for carpet warp or linoleum backing, or it may be bleached and refined, with resinous by-products of high commercial value. It can, in fact, be used to replace foreign fibers which now flood our markets.

Thousands of tons of hemp hurds are used every year by one large powder company for the manufacture of dynamite and TNT. A large paper company, which has been paying more than a million dollars a year in duties on foreign-made cigarette papers, now is manufacturing these papers from American hemp grown in Minnesota. A new factory in Illinois is producing bond paper from hemp. The natural materials in hemp make it an economical source of pulp for any grade of paper manufactured, and the high percentage of alpha cellulose promises an unlimited supply of raw material for the thousands of cellulose products our chemists have developed.

It is generally believed that all linen is produced from flax. Actually, the majority comes from hemp--authorities estimate that more than half of our imported linen fabrics are manufactured from hemp fiber. Another misconception is that burlap is made from hemp. Actually, its source is usually jute, and practically all of the burlap we use is woven from laborers in India who receive only four cents a day. Binder twine is usually made from sisal, which comes from the Yucatan and East Africa.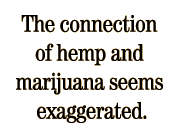 All of these products, now imported, can be produced from home-grown hemp. Fish nets, bow strings, canvas, strong rope, overalls, damask tablecloths, fine linen garments, towels, bed linen, and thousands of other everyday items can be grown on American farms. Our imports of foriegn fabrics and fibers average about $200 million per year; in raw fibers alone we imported over $50 million in the first six months of 1937. All of this income can be made available for Americans.
The paper industry offers even greater possibilities. As an industry it amounts to over $1 billion a year, and of that, 80 percent is imported. But hemp will produce every grade of paper and government figures estimate that 10,000 acres devoted to hemp will produce as much paper as 40,000 acres of average pulp land.
BACK TO INDEX