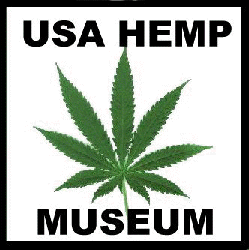 Hemp is God's Solar Energy Collector collecting sunlight and transforming it to resource material that can create 50,000+ products.
People of the earth are winning the freedom to plant, grow, consume, and other-wise live with hemp. Hemp has over one million listings on the yahoo search engine. Hemp lives! Our poor governments can moan and groan all they want, but the prohibition against hemp is coming down. Anyone who cares to look at the evidence presented here must come to the conclusion that big mistakes have been made in this war on hemp. Our very Constitution has suffered from the drug war. Drug war equals prohibition equals Constitutional Amendment, and not doing it right has made a mess of Constitutional law.
Samples of cloth around 9,000 years old have been discovered, and you can bet they were hemp. The Chinese symbol for hemp is over 5,000 years old, so Chinese fabric is probably much older. It is my hypothesis that before people ever sat on the back of a live horse there was hemp rope. The oldest known saddle from the frozen tombs of the Siberian steppes was made of hemp. And ropes, sails, flags, banners, clothes, fish nets, tents, tapestries, art canvas, burial cloth, oakum, paper, lamp oil, food and more define the history of people's civilization.
And hemp paper recorded much of that history, from the first true paper in China to the most basic documents of law and religion and art in much of the world, including our U.S. Constitution.
Few museums in this country even mention hemp. So many facts have just come to light in the last dozen years from old books, from junk and antique stores, from a new way of looking at lost history, and from a vision of the potential of hemp in the future of people, that we had to have our own museum of Cannabis sativa/hemp/marijuana.
The re-legalization of Cannabis to its pre-1937, pre-prohibition status would be of enormous benefit to the world. In this time of rapid population growth, the world needs this renewable and sustainable resource base.
Some of the history and present state of affairs regarding hemp is a sad commentary on how the truth can be corrupted in a free society, by the very institutions we hope will govern us fairly and honestly. We feel a duty to change attitudes and laws through education and discussion. After hearing the evidence we hope you agree.
Source: USA Hemp Museum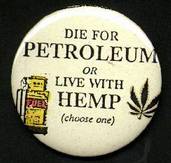 Hemp is 4 times more efficient than corn as biofuel. Hemp pellets can be used to produce clean electricity.
Something has happened on the alternative energy front that is so revolutionary that all people connected with or interested in improving the quality of life on our planet should be aware of it. A solar collector has been re-discovered (you probably think this is a joke). Once declared useless by our government in 1937, this collector is so powerful it could replace every type of fossil fuel energy product (oil, coal, and natural gas).
This solar collector is a green plant, one of the most advanced in the plant kingdom. It uses the evenly distributed light of the sun to grow biomass (biologically produced matter). This plant is the earth's number one biomass resource or fastest growing annual plant for agriculture on a worldwide basis, producing up to 14 tons per acre. This is the only biomass source available that is capable of producing all the energy needs of the U.S. and the world...
Hemp will produce cleaner air and reduce greenhouse gases. When biomass fuel burns, it produces CO2 (the major cause of the greenhouse effect), the same as fossil fuel; but during the growth cycle of the plant, photosynthesis removes as much CO2 from the air as burning the biomass adds, so hemp actually cleans the atmosphere. After the first cycle there is no further loading to the atmosphere...
Source: USA Hemp Museum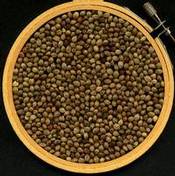 "And God said, Behold, I have given you every herb bearing seed, which is upon the face of all the earth, and every tree, in which is the fruit of a tree yielding seed; to you it shall be for meat." Genesis 1: 29
Edible hemp seeds are one of the most complete sources of vegetable protein available. Hemp seed oil is lower in saturated fat and higher in essential fatty acids than any other vegetable or seed oil. Imported from China, and now Canada, because American farmers are not allowed to compete on the world market with this high protein, excellent oil seed.
Hemp Seeds are truly the food of the future. Hemp seed is 20% high quality complete protein and 30% oil. The oil contains over 80% essential omega 3 and omega 6 fatty acids.
There is naturally no THC (the buzz chemical) in hemp seeds, sterilized or viable (live). Hemp seed foods are wholesome, drug free and delicious. Whole hemp seeds have a nice nutty flavor somewhere between sunflower, sesame and pinion nut. They may be eaten whole raw, tamari toasted as a snack, mixed in or sprinkled on top as a garnish to many foods, and pastries.
Source: USA Hemp Museum